SERVICES IN OFFICE BUILDINGS
A study conducted by BNP Paribas Real Estate
 PEOPLE ARE AT THE HEART OF NEW COMMERCIAL BUILDINGS
As a leader and expert of the real estate market, BNP Paribas Real Estate introduces its new study on office building services. WATCH OUT#2 / OFFICE SERVICES provides you with all the information on the latest trends and solutions: key figures, infographics, case studies, interviews, definitions, etc.
Services in office buildings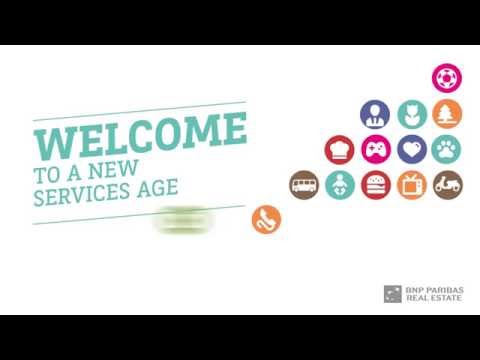 NEW SERVICES FOR OFFICE BUILDINGS
#1 THE START-UP MENTALITY
Impatient, detached, creative, hyper connected, gamers—all words we typically associate with generation Y, the youthful group born between 1980 and 1995. Today this accounts for almost 40% of the labour force. They pose a real challenge to managers, who are having to adjust their behavior and values.
Big data, connected objects and shared networks are increasingly part of the new working world. The question is now not so much if we should use the cloud, but how to use it. If you want to be on trend, you have to have your head in the cloud. The path is clearly signed: think outside the box and become digital savvy.
You share your car, your house, your ideas and your inside knowledge. Many companies now boost open innovation, where shared procurement and sustainable development allow them to adopt a participatory approach. Office buildings are clearly part of this trend and make their contribution to this culture of sharing.
Being mobile—where does my office come in? Telecommuting, working from home, being ultra-mobile, and going to where your customers are—it is often difficult to find your bearings. Being mobile is not just a matter of working away from your desk. The new generation of mobile workers also moves around inside the company.
CASE STUDIES AND EXPERTS' INSIGHTS
CASE STUDIES
Which services should you implement? How to integrate them according to the building type?
To give you precise answers, we created 5 case studies of different size, location and for buildings in different conditions.
The challenges are the same for many assets all over Europe and in the world.
INTERVIEWS AND EXPERTS' INSIGHTS
Interviews and expert advice from:
Dimitri Boulte, SFL
Jean-François Focone, Unibail-Rodamco
Pauline Gogue, Sogeres
Sébastien Modat, Sodexo
Thomas Charvet, BNP Paribas Real Estate
Jérôme Delaunay, AXA Investment
Cyril Dugué, Convergence
Jean-François Patte, Wilmotte & Associés
REGISTER NOW & GET THE NEW WATCHOUT#2 STUDY
Fill out the form and receive our Watch-Out #2 study dedicated to new services in office buildings. Key figures, infographics, case studies, expert insights… We are giving you all the tools to understand new trends impacting the tertiary real estate market.
REGISTER NOW & GET THE NEW WATCHOUT#2 STUDY
Whenever you visit our website and/or use its features such as webforms BNP PARIBAS REAL ESTATE FRANCE processes information about you such as personal identifying data including contact details for the purpose of processing the requests that are sent to us via the website, and, in some cases, for marketing purposes among others by using cookies. Such information constitutes "personal data".
For more information about how BNP PARIBAS REAL ESTATE FRANCE is processing your personal data in this context and an explanation of your rights (including a right of access, rectification, objection to direct marketing and a right to set guidelines with regards to the use of your personal data after your death, as well as, in certain circumstances, a right of erasure, restriction of processing, data portability and a right to object to other forms of processing) and BNP PARIBAS REAL ESTATE FRANCE's obligations in that respect, please consult our data protection websit (https://data-privacy.realestate.bnpparibas/) and our cookie policy (https://lp.realestate.bnpparibas/watch-2-en-cookie/).